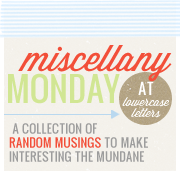 1.
My biggest pet peeve
is listening to people eat, especially crunchy food. I
cannot
stand listening to people eat.
2. Grandpa, Dad, and Keith
along with a few other little helpers have been harvesting corn all afternoon. They are finally back out in the fields after a minor problem with the elevator we use to put the corn into the corn cribs. The big rush is some major winds and thunderstorms are coming in tomorrow and could be damaging to the corn.
3. Grandma, Mom and I
went to
Jo-Ann's
today while the guys were out in the fields. I bought yarn and a pattern for a baby's blanket to make for either a baby shower or to put in my hope chest (I guess it's not really a hope "chest" since I don't have an actual chest to put anything in). I've made a promise not to start any other crafts until I finish my socks and a baby sweater =) Must knit faster!
4.
I made apple pie
last night and it turned out a lot better than I expected. I tweaked a recipe and made it my own =) I'll and try and post pictures and a recipe later this week.
5. I love playing
cornhole. Our
youth group
church plays cornhole a lot during the summer. This was at a 4th of July party with our youth group. My strapping younger brother not knowing I took his picture *evil laugh* =)