1. Hello, my dear guest! My dear wish and hope is that you enjoy yourself here at my May Garden Party.
Let us start by your telling us a bit about yourself and giving us a little insight into your daily life, family, et cetera.
I'm 16 (17 in July) and live on a small hobby farm in the northern hills of Indiana (if you find hills in northern Indiana you've found us ;) ). I live with my parents, three younger brothers, a dozen or so beef cows, several cats, chickens, and a dog. Mom stays home with us kids and sews in her spare time for a couple people and Dad is a diesel mechanic and farms as a hobby.
I like knitting/crocheting, baking (especially breads and desserts), playing piano, and gardening. Spring and summer are my favourite seasons.
We don't have a very strict schedule for the day, but we like to start school by 9. I like to be out of bed by 8, but sometimes that doesn't happen. I come downstairs and start the coffee maker (we love our coffee in this house ; ) ) I usually start math between 8:30 and 9 then work until lunch (noonish). Sometimes I'm done with school before lunch or at the latest 3. During the day I do laundry (I'm the laundry queen) and other chores/baking that needs done. After school is mostly free time and laundry until time to start supper. In the evenings after supper I crochet or read until bedtime at 9.
2. Write a little description about your personality. Around strangers I'm usually shy, but once I know you I'm a little more talkative =) I'm very opinionated about my beliefs and love to debate. I don't get too worked up over things and I don't care for drama.
3. How long have you been blogging? Might I ask what some of your favorite blogs are?
I've been blogging around 2 years (a year and a half on my Blogger blog) A few favourite blogs are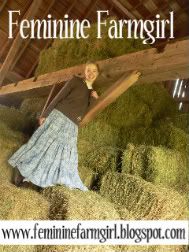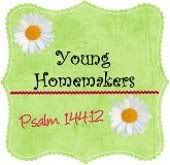 4. What grade in your studies are you currently in? What subject are you particularly interested in?
I'm currently in eleventh grade. I love history/social studies and usually math and chemistry =)
5. Might you tell us a few of your favorite pastimes and/or interests? Most evenings you can find me reading or working on a crocheting/knitting project. In the spring and summer I like working in the garden. I also enjoy playing the piano and baking.
6. Are you fond of crafting? If so, what are your current projects that have been keeping you occupied? I have a lot of UFO's, but some projects I'm working on now are: a pineapple table runner, socks, and a baby sweater.
7. What type of music are you particularly fond of? I like classical music. It's also my favourite to play on the piano
8. Could you please share a few of your favorite songs you like to listen to or artists? Do you play an instrument yourself? I play piano and would like to learn to play the violin or cello. Mozart, Beethoven, and Chopin are few favourite composers
9. Are you old-fashion or modern? Old fashioned to the bone. I think I was born two centuries late =)
10. What are some of your favorite reading material? I like reading non-fiction history books. Some Amish books are okay and fictional history books are good too.
11. Name a few of your favorite books and authors. Lori Wick, Wanda Brunstetter, Beverly Lewis, Charles Dickens, Jane Austen, C.S. Lewis...
12. What are a few of your favorite movies or TV shows? Usually old shows like Hogan's Heroes or Andy Griffith though we watch NCIS, Bones, and Monk. Overall we don't watch a lot of t.v.
13. Are you partial to traveling abroad? If so, where do you dream of visiting? What would you do at your dream destination? I'd love go to Italy or Greece =)
14. What are your sentiments on lavender? I love the smell of lavender (not the artificial stuff) and it's good for cooking too.
15. Are you partial to letter-writing or do you prefer e-mailing? Letter writing all the way. E-mailing is ok for some things, but I prefer the good ole letters
16. Do you have a favorite Etsy shop? There's so many to choose from, so I don't really have any favourites.
17. What are your goals/resolutions for this summer? To keep my garden mostly weed free (always a challenge) and possibly start a shop of some sort.
18. What is your favourite Bible passage? I enjoy most of Paul's writings and Proverbs 31 is another favourite.
19. What is perhaps one of your fondest memories from your past? Going to Steam Threshers each year with my family, going to BBI with friends, and family gatherings always create memories.
20. Do you have any recommendations concerning Grace's Garden Walk? {more giveaways, product reviews, specific posts et cetera}. Not really =) I like the blog just the way it is ;)